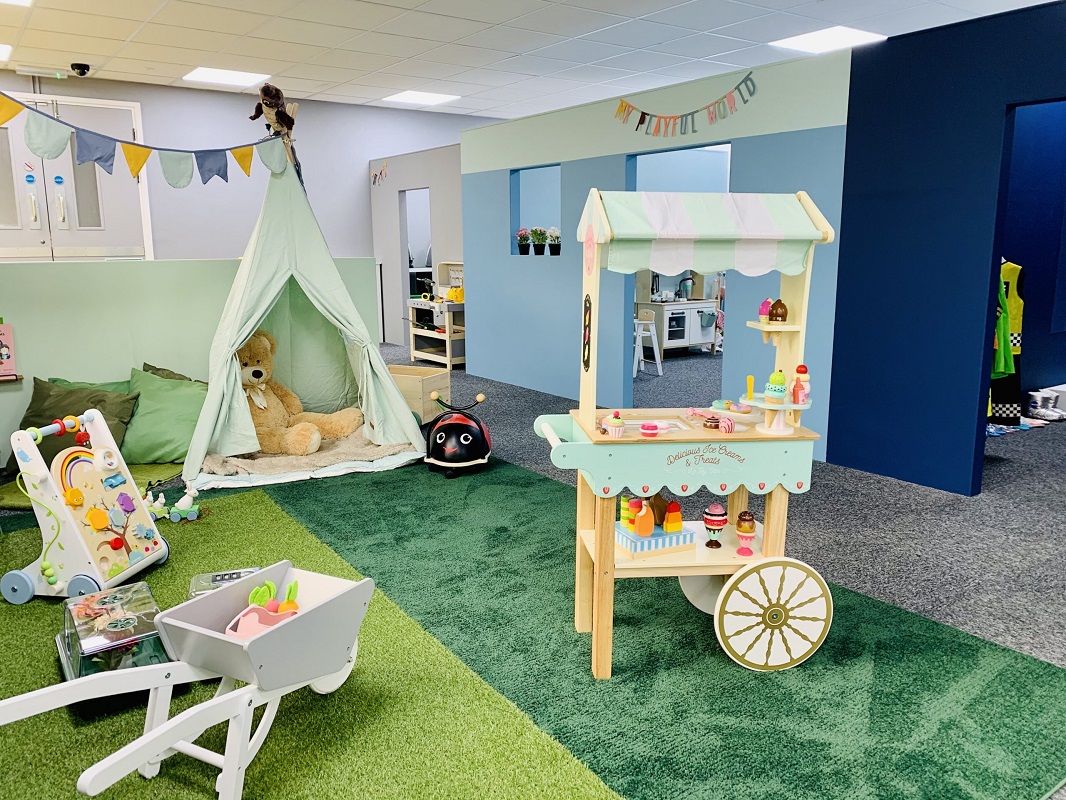 Welcome to My Playful World
My Playful World is a children's imaginative play centre featuring a miniature town with interactive areas including a grocery store, theatre, home area, vets, construction area and indoor park area. All set in a welcoming, clean and relaxing venue.
The play centre is fully visible from our café so you can still see your little ones when you take a coffee break. We focus on freshly made food, using local and organic produce. There is always a selection of tasty home-made bakes available, which take into consideration various dietary requirements. 
Our organic coffee is freshly ground and we have a wide range of teapigs teas to choose from as well as the ever popular artisan Harry's handmade hot chocolates.
Check out our google & Facebook reviews to see why we've become a favourite venue for families.
We know that children learn through play…every moment they spend here is helping to build on areas of their development.
Play areas
Parents are free to join in with their children's play, but mind the low door frames…My Playful World is built especially for children.
We have a mini grocery store where children can shop using their baskets and trolleys, pay for their food at the check-out and take their shopping back to the home area. The home area is laid out with a kitchen, dining table, bedroom and all the things you would expect in a house-except in miniature!
We have the indoor park area where children can get an ice cream from the ice cream stall, pick the vegetables or tend to the flowers growing in the planters. They can have a teddy bear's picnic, play with the sensory toys, read a book in the tepee or take a ride on the ladybird wheely toy.
We have a beautiful art deco style theatre, complete with stage where children can play with a huge variety of dressing-up clothes and accessories, then they can put on a show for their grown-ups! Up the lane we have the vets, where children can tend to their pets, take them for a walk or give them a bath. 
Finally, we have the construction area where the children can dress up as builders; high-vis, hard-hats, goggles, ear-defenders, gloves-the lot! They can play at the Duplo table, build a tower as big as themselves using the foam bricks, ride on the diggers, play with the cars or busy themselves creating something with the tools at the workstation.
Book Today
We situated a short, 5 minute drive from the A1 (Markham Moor exit), in Tuxford, Newark and close to a number of major towns and cities.
We are only a 15 minute drive from Retford, Newark and Ollerton, a 20 minute drive from Worksop,a 30 minute drive from Mansfield, Doncaster, Grantham and Gainsborough, or a 40 minute drive from Nottingham, Chesterfield, Hucknall and Sutton-in-Ashfield.
We welcome visitors from far and wide and have plenty of on-site parking available.
Please note, that to keep the place hygienically clean for your little ones, we do have a 'no-shoes' policy inside the main area of the play centre. So don't forget to bring your best socks for the occasion!
To come to one of our play sessions, reserve a place here using our online booking system. To enquire about our parties or school group bookings please email or call us.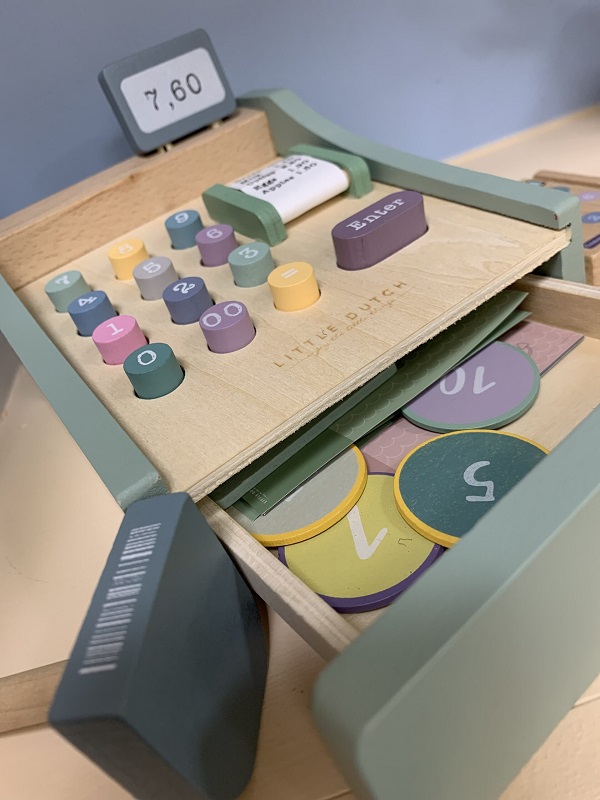 Play sessions
When visiting, children have 90-minutes of play time. After the session, we take some time to 're-set' the areas ready for the next group, with a little help from those in the session. We always make sure the play centre is thoroughly clean for each new group arriving.
Sessions run throughout the week at the following times:
– 9:30am – 11:00am
– 11:30am – 1:00pm
– 1:30pm – 3:00pm 
– 3:30pm – 5:00pm (Tuesday, Thursday and Saturday only).
We are a relatively small venue, which our customers love as we never feel 'crazy busy' and the customer service is more attentive. Being a smaller venue does mean that we would struggle to accommodate walk-in customers, so pre-booking is recommended.
My Playful World can also be booked out for children's parties. We take the hassle out of the planning and preparations, so you can just sit back and enjoy your child's special day. Please get in touch if you would like more information, and do check out our online reviews from people who have chosen to have their child's party with us – all 5 stars!
We also offer packages to schools (Key Stage One) and early years providers for group sessions at My Playful World. The Early Years Foundation Stage (EYFS) encourages learning through games and play; which is the very ethos of My Playful World.
Make An Enquiry
For any questions relating to our play sessions, parties or school packages, please email us through our online enquiry form.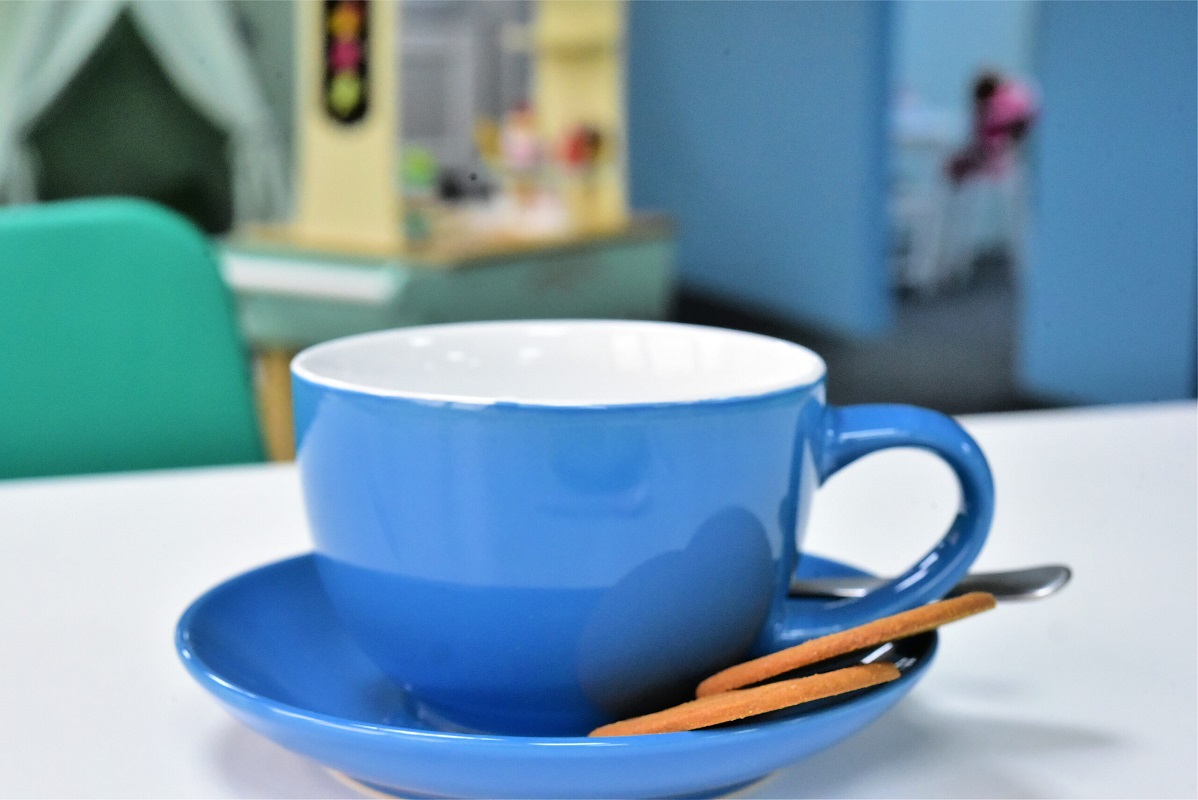 Café
Our café menu at My Playful World focuses on freshly made food, using local and organic produce. There is always a selection of tasty home-made bakes available, usually including at least one dairy-free and gluten-free option. We have vegetarian, vegan and dairy free options available; we aim to be as inclusive as possible.
The organic coffee is freshly ground and there is a wide range of teapigs teas to choose from. If this wasn't enough, we also serve the ever popular artisan Harry's handmade hot chocolate. There are plant milks available for all our hot drinks as well as dairy options.
Events
Play & Eat
Every Tuesday & Thursday during term time, we have an after school Play & Eat option. So for £9 your little-ones can have an hour and a half after school play time and their tea with us. This includes any children's meal from our menu, a drink and a sweet treat. Don't worry if they're too busy playing to eat – they can take their tea home in one of our picnic boxes!
Summer Fun Days
During the summer holidays we have some events running during our usual play sessions to keep everyone entertained. As always, the play sessions are bookable online through the booking page and run 3 times each day. We hope to see you there!
12th August – Face painting & glitter tattoos, an hour and a half play time, unlimited juice & a sweet treat – £12 per child.
19th August – Summer Themed Craft Activities, an hour and a half play time, unlimited juice & a sweet treat – £10 per child.
26th August – Debutots Summer Story Time an hour and a half play time, unlimited juice & a sweet treat – £12 per child.